The Horry County Museum hosted the first annual quilt gala in 1994 on the lawn of the old County Courthouse with 40 beautiful quilts waving in the breeze. The event has grown into a two day show exhibiting nearly 200 quilts and quilted items. The show also has a Merchant Marketplace with lots of quilting notions, fabrics and supplies for sale. The gala is held in the 17,000 sq. ft.
Ocean Lakes Family Campground
Recreation Center on the shores of the Atlantic Ocean in Myrtle Beach, S.C.
At the Gala...
Door Prizes
Hand Quilting Demonstration
Museum Challenge Quilts
Lectures
Raffle Drawing
Special Exhibit by Fiber Fanatics, a local fiber arts guild.
Merchant Marketplace
23rd Annual Quilt Gala
February 24th and 25th, 2017
Friday 10:00 am – 4:00 pm
Saturday 10:00 am – 4:00 pm
Gala is open to the public.
Admission is $5 per person, children 12 and under free.
Anyone may participate in the Gala by entering a quilt. This is not a judged or juried show, however, viewer's choice voting will take place. If you have any questions please let us know.
Ribbon Winning Quilts Exhibited at the Horry County Museum
The Horry County Museum recently held its 22nd Annual Quilt Gala Friday, February 26th and Saturday, February 27th. The Gala featured over 200 pieces on display.
The categories this year were large quilts, medium quilts, medium wall quilts, small wall quilts, wearables, and the challenge quilt entries. The challenge quilt category is based on preset restrictions such as colors, fabric, and themes. The challenge this year was themed "Goin' in Circles". This meant applicants designed a piece with a recognizable circle somewhere in the quilt. Wearables are garments, usually hand sewn, using a variety of quilting techniques.
Vendors were available for visitor's sewing and quilting needs, including patterns, fabric, thread, baskets, clothing, wall hangings, aprons, and much more.
The featured Quilter this year was Kathleen Stuart. Kathy displayed several of her quilts and gave talks on Whole-cloth quilts.
The Gala's other highlights included discussions of antique quilts by Walter Hill, "Embellishments Etcetera" by Jerry Reese, "Cuttin' up Quilts" by Jeff Woodward; and "Zany Zentangles" by DJ Stultz.
The public was invited to vote on their favorite quilts. Ribbons were given in each category for third, second and first place. The Best of Show quilt received the most votes overall.
 The first place ribbon winners and the ribbon winners in the challenge category will have their items displayed at the Horry County Museum throughout the month of March.
 challenge category will have their items displayed at the Horry County Museum throughout the month of March. The Best of Show item is the quilt that received the most votes overall.
2016 Winners
Large Quilt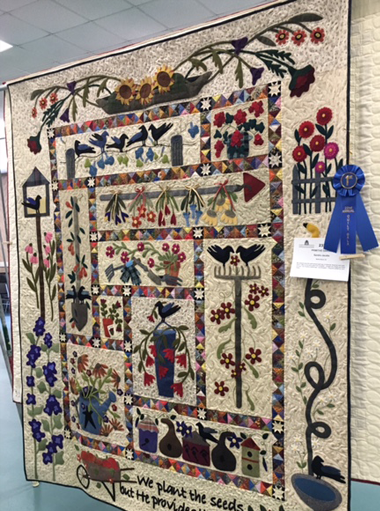 1st Place
Sandra Jacobs: Primitive Garden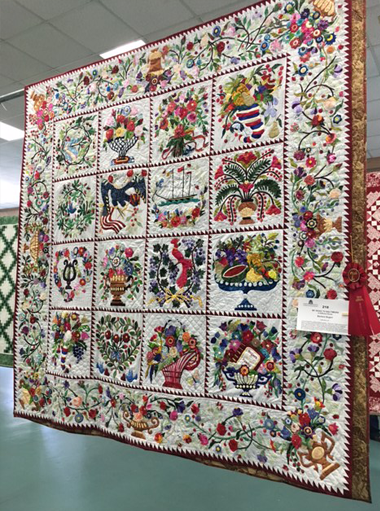 2nd Place
Barbara Bogert: My Road To Baltimore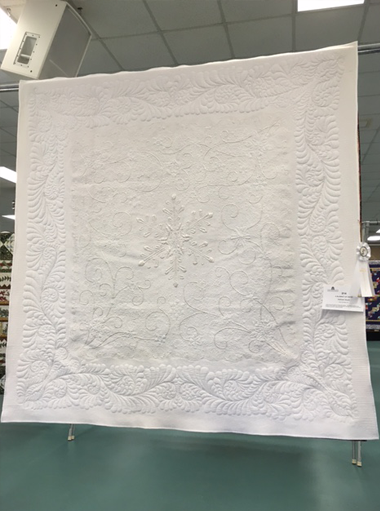 3rd Place
Kathleen Stuart: A Blanket Of Snow
Medium Bed Quilt
1st Place
Gilma Caslin: Flowers For Matthew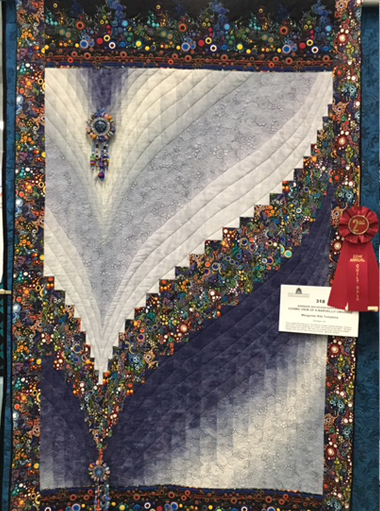 2nd Place
Margarete Tompkins: Cosmic View Of A Bargello Universe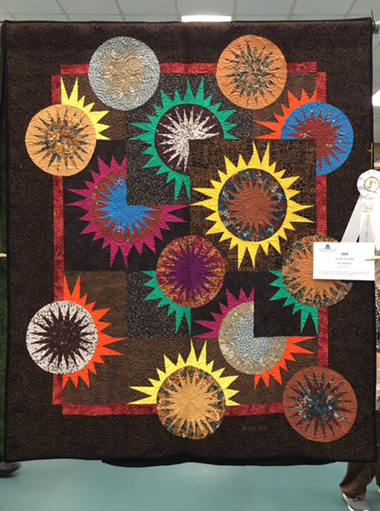 3rd Place
Kay Hopkins: Total Eclipse
Medium Wall Quilt
1st Place
Judy Lilly: Over The River & Thru The Woods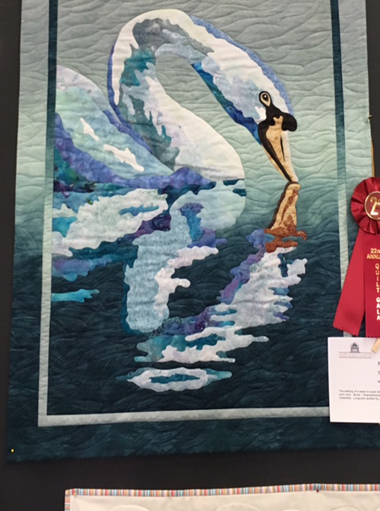 2nd Place
Tina Roth: Pensive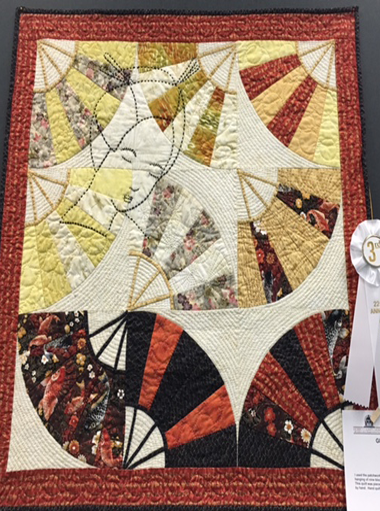 3rd Place
Anita Clodfelter: Geisha And Her Fans
Small Quilt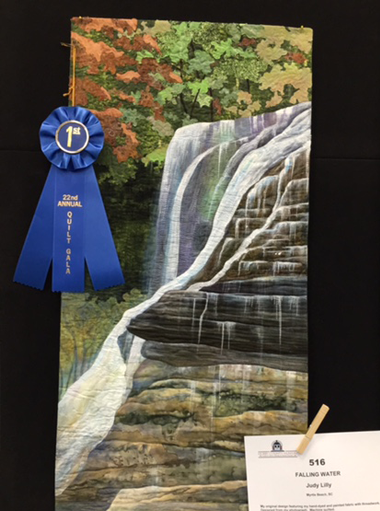 1st Place
Judy Lilly: Falling Water
2nd Place
Sandra Jacobs: Feathered Tree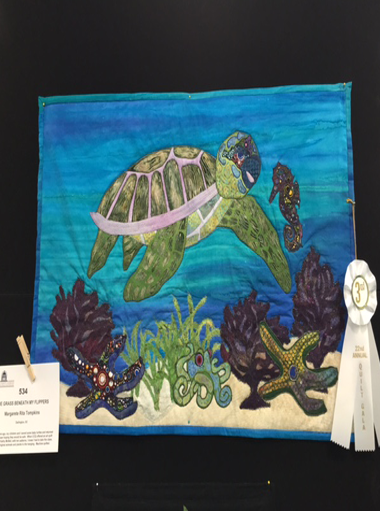 3rd Place
Margarete Tompkins: The Grass Beneath My Flippers
Wearables
1st Place
Janet Whittaker: Jacket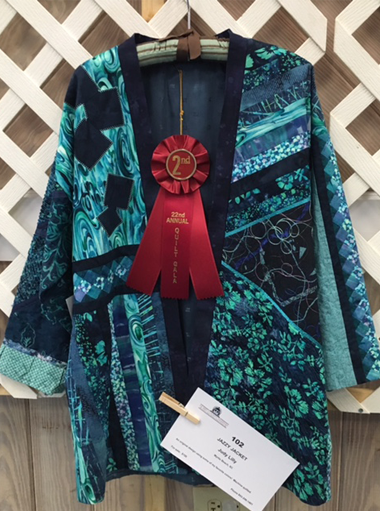 2nd Place
Judy Lilly: Jazzy Jacket
3rd Place
Norma Mintz: My Out Of The Box Jacket
Challenge Quilt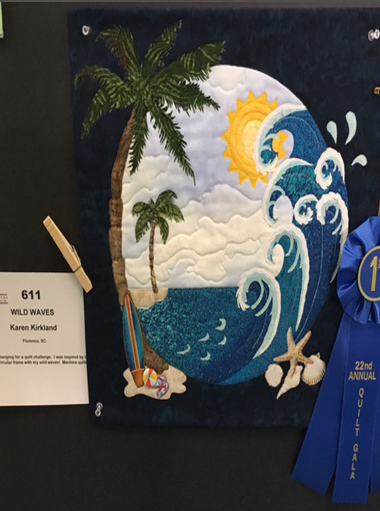 1st Place
Karen Kirkland: Wild Waves
2nd Place
Patricia Sprecher: Purplicious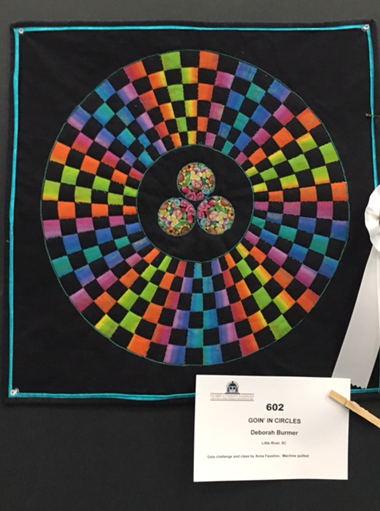 3rd Place
Deborah Burmer: Goin' In Circles
Best of Show
Judy Lilly: Over The River & Thru The Woods