Join us for the 27th Annual Quilt Gala at the Horry County Museum March 3rd through the 26th! This year, the Museum will display quilts made by the Myrtle Beach Shorebirds and Conway Quilts of Valor groups. Each week, 18 new quilts will be on display that will be awarded to local veterans in a special ceremony on Saturdays at 1 PM. The mission of the Quilts of Valor Foundation (QOVF) is to cover all service members and veterans, touched by war, with a comforting and healing quilt. Since 2003, the foundation, now a national organization, has awarded over 250,000 quilts across the US. Throughout March, the Museum will also host a variety of quilt related lectures and programs in the McCown Auditorium. Be sure the check back with us as we continue to schedule our events.
At the Gala...
Door Prizes
Demonstrations
Lectures
Raffle Drawing
27th Annual Quilt Gala
March 3rd-26th, 2021
Horry County Museum
805 Main Street, Conway, SC 29526
The Quilt Gala is open to the public, admission is FREE!
26th Annual Quilt Gala Winners
Although the Covid-19 Pandemic forced us the close to the public on March 17th, many visitors got to view the Quilt display and cast their vote for their favorite quilt this year. We are pleased to congratulate the winners of the 2020 Horry County Museum Quilt Gala! Thank you to all who participated! Here are the winners of our March Quilt Gala!!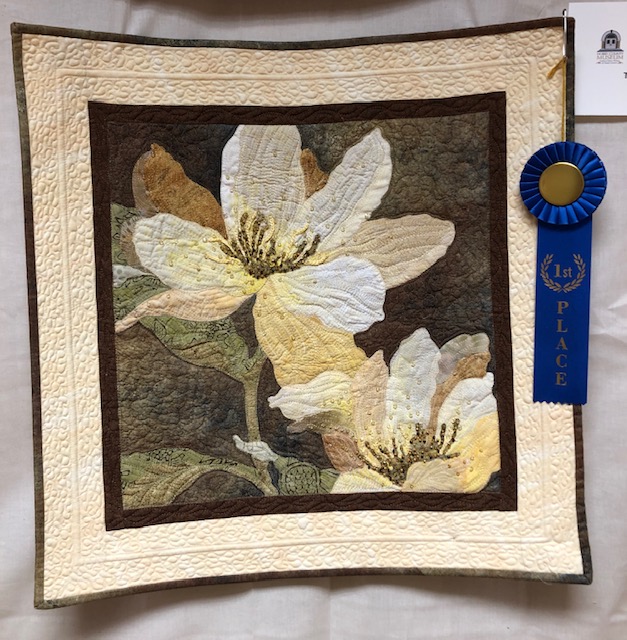 First Place
Blanche Hitchner and her wall quilt "The Crystal Magnolia".
Second Place
Pamela Cox and her wall quilt "Ocean Scene".
Third Place
Francis McCormick and her wall quilt "Lighthouse Sampler".